Description
Joslin ER Sling®
Disposable Stretch Arm Sling

Designed for Emergency Rooms, ambulatory surgery centers, disaster relief and other high-volume medical venues. It is usable for short-term arm injuries up to two weeks. Made of soft, stretch fabric, it is economically priced and Latex-Free. The Joslin ER Sling® fits both right and left arms.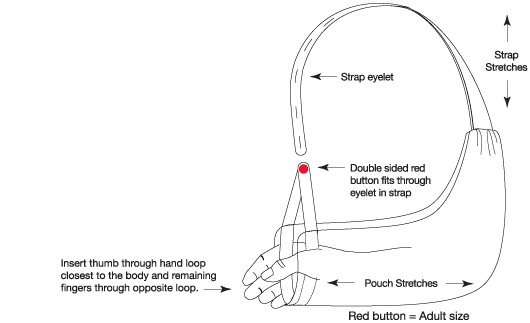 Easy to use: Place arm in sling pouch with hand inserted as shown. Stretch back strap over shoulder opposite the injured arm until eyelet comfortably aligns with red button. Place button through eyelet securely. Strap may be secured on either side of red button. Extra strap length may be trimmed with scissors.
Product Demonstration Video
Key Benefits
Replaces multiple sizes
Made of soft disposable fabric
Fits right or left arm
Comfortable hand loops
Latex Free